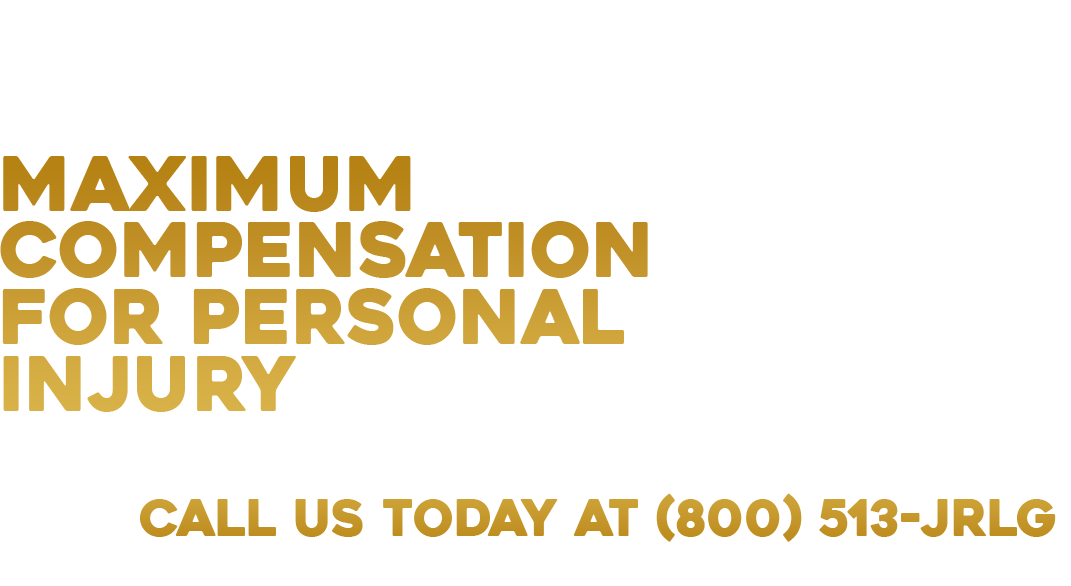 We provide victims with the means to restore their damaged personal property, cover medical bills, and ease the mental distress and financial hardship caused by lost wages.
Life can take unexpected turns, and if you or a loved one has experienced an injury due to an accident, there's a beacon of hope – a personal injury lawsuit. It's your path to the compensation you rightfully deserve. When third-party negligence leads to injury, you may be entitled to financial support for physical recovery, medical expenses, lost income, and the emotional toll on you.
At The JR Law Group, we are more than just attorneys; we are your advocates, committed to guiding you through the complexities of personal injury law. Our mission is to help you bounce back financially and regain your physical well-being while ensuring you receive the rightful compensation for your pain and suffering.
At JR Law Group, we understand that accidents can be traumatic, especially involving cars and trucks. Our dedicated team is committed to helping you navigate the complexities of personal injury claims stemming from these incidents. We prioritize your well-being and will advocate for your rights. We specialize in securing the maximum compensation you deserve, considering the physical, emotional, and financial toll such accidents can have on your life. Whether you're dealing with medical bills, lost wages, or emotional distress, we're here to support you every step, ensuring you receive the justice you seek and the relief you need.
Slip and fall incidents can lead to unexpected injuries and significant disruptions in your life. At JR Law Group, we deeply understand the complexities involved in these cases. Our client-centered legal services prioritize your well-being and focus on building a meaningful client relationship. We recognize the pain and suffering resulting from a slip-and-fall incident, and our approach ensures we handle your needs with empathy and understanding. By carefully listening to your concerns, we develop effective legal strategies to achieve favorable outcomes. With a strong commitment to your case, we are dedicated to securing the justice and compensation you deserve while offering unwavering support throughout the legal process.
Losing a loved one due to someone else's negligence or wrongful actions is a profoundly challenging experience. At JR Law Group, we provide compassionate and comprehensive support to help you navigate wrongful death claims. We understand the emotional and financial burdens such incidents can place on families and prioritize building a meaningful client relationship. Our legal team approaches your needs with compassion and understanding, taking the time to listen to your concerns. We tailor our legal strategies to ensure your loved one's memory is honored with justice. With our unwavering dedication and expertise, we aim to secure the maximum compensation for your loss, providing exceptional representation while guiding you through the legal process with care and empathy.
What do our clients say?
The team at the JR Law Group gave me exceptional customer service, always going above & beyond. I was working Uber as a driver transporting a passenger at the time of the accident. There was minimal damage to my car, but l had minor damages to my body. I knew from having previous accidents that the Insurnace company would give me the run a round. I needed a lawyer who specialized in some what of a complicated car accident. After thorough research of attorneys in my local area. I decided to let Attorney JR represent me. Attorney JR made sure to get me the money that l deserve for my injuries. I walked away with not one but two checks. I thank the team for all the hard work and dedication in the role you played in my car accident claims. I am so grateful for you all. Thank you so much!

If You Get Hit by a Truck or Car Call JR!

My experience with the JR Law Group has been nothing but exceptional. They will keep you informed from every small detailed possible. Definitely better than my first incident that I had with a previous attorney. I truly will recommend The JR Law Group to anyone interested in a lawyer for personal injury.

Upon an exhaustive search of an attorney who handles personal injuries tailored to my specific situation -I came across the JR LAW GROUP . From day 1 I felt as if I was a person and not just a case number . His staff was extremely knowledgeable, immensely helpful and professionalism was top tier. My settlement was fast and far greater than my expectations. Best way to describe my experience is crème de La crème .

Hit by a car – call JR !

Great service. Jr cares about his clients. He got me a 5 figure check for me car accident and reduced my medical by 50%

At J R Law
My Attorney was very helpful, transparent, and most of all very professional…
He got me paid for my injuries!!!

Jeremy Robinson is one of the most professional and proficient lawyer I know. He does what he say and he delivers. We had no problem communicating with him about our case at any time. Definitely recommending his service.